I remember the first time a friend of mine mentioned kombucha. This friend only eats and drinks for sustenance, and not for enjoyment. I more often than not eat purely for enjoyment.
He was into this healthy, probiotic fermented tea drink and he said that I'd love it. I think he likened it to beer — I'm in! — before he let me have a swig from his bottle.
He was wrong — completely wrong. This was not beer.
What I was drinking was vinegary, earthy, and contained some globular substance in there that felt like a loogie. It was reminiscent of a wine that had turned and filled with sediment. I forced myself to swallow it and vowed to never drink it again.
And I didn't drink it for years …. until a few months ago when a woman behind the counter at R2GO suggested that I try this kombucha and said it was better than any she'd ever had. I pulled a bottle out of the refrigerator and realized it looked different than the kombuchas I'm used to seeing (and avoiding). It was clearer, it was grapefruit and most strikingly, it was local, which was easy to recognize by the name Circle City Kombucha.
"I love people that hate kombucha," says Matt Whiteside, one of the co-founders of Circle City Kombucha. "Most people that say that try ours and they say they genuinely like this, and that it's unlike anything they've had before."
He's right; that taste I got at R2GO changed my mind entirely. Freddy Ferro, another founder, explains what sets Circle City's kombuchas apart from traditional kombuchas while we are sipping on one of their six flavors at their production facility near at 11th and Arlington.
"Do you taste any sourness in our beverage?" he asks. And I admit, I don't. Mostly I just taste ginger. He continues, "It's a fermented drink, not a soda, but it's not nearly as tangy or tart as you would experience in a regular kombucha. And the reason for that is we cut off our first fermentation early before the vinegar yeast come in and then we add in an anaerobic [bacteria], which is a closed fermentation and that's when we add in our juice."
The sourness is out and so is another thing that makes Circle City Kombucha's offerings more palatable for myself (and I can imagine most people) the scoby. Scoby stands for "symbiotic colony of bacteria and yeast" and it's a major part of what makes kombucha so healthy. Scoby is also what leads to that peculiar texture in traditional kombucha.
Circle City Kombucha strains the scoby out of the finished product, so it drinks more like a soda. As Ferro explains, "There are definitely the health benefits of it, none of the things we do that sort of gear it towards a soda experience, none of it is at the expense of probiotics or naturally occurring B12 vitamins."
When the trio behind the product — which includes Whiteside, Ferro and their brewer Skylar Williams — set out to create kombucha they knew they didn't want to be just like all of the other offerings on the market.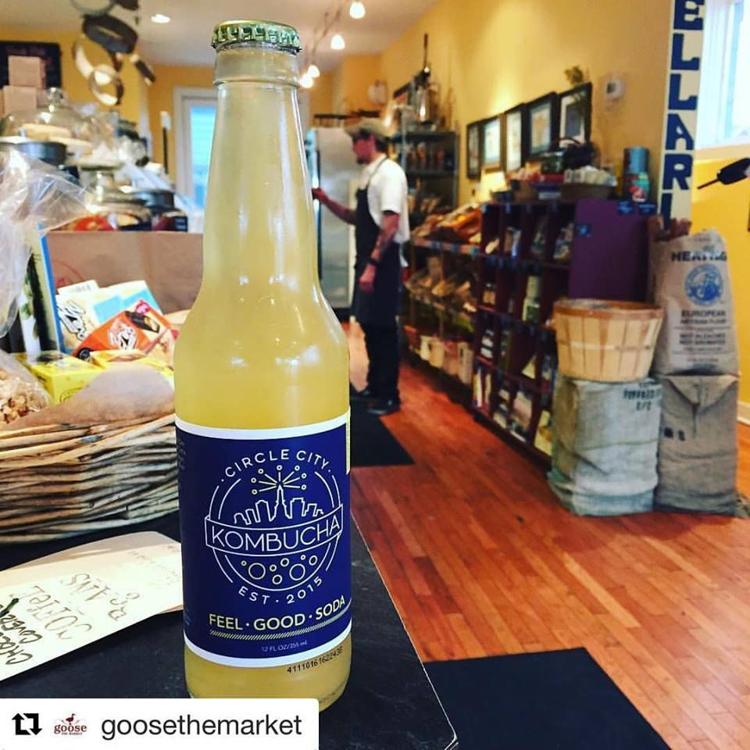 "What you'll notice is our slogan is 'Feel Good Soda'," says Ferro. "Right out of the gate, when we were looking at our values and goals and what our mission statement is, we realized we didn't want to be this hippie-dippie health beverage.We didn't want to be the fairydust frog juice. We wanted to be like a smash in your face, like, you should stop drinking soda because this is better for you and it gives you the same experience."
This mindset has not only set apart their product taste-wise, but it also allows for them to market it to a wider audience. Kombucha's profile has risen to popularity recently due to its health benefits. The list of purported benefits including helping with digestion, liver function and sleep; stopping hair loss; and the list goes on.
For Whiteside, the health aspects of the product has been a godsend.
"I'm actually Type I diabetic," he says. "So I got diabetes when I was three years old. I've had it my whole life and I've always struggled with not being able to drink anything out there because I can't have anything with added sugar.
"But when Skylar started innovating these products I thought it was great and I have a growler in my fridge at all times. I start my day with a glass and generally end it with a glass. I don't recommend everyone drink a ton of it, but I do and it's great. For me, it's genuinely been life-changing. I can drink a ton of this and it doesn't impact me in a bad way, in fact it helps my digestive system and adds energy to my life."
And while Circle City's product offers the health benefits just like any other kombucha, the guys behind it see it as more than that.
They've been happy to see their product used by chefs like Regina Mehallick of R2GO and Artie of Artie's Paleo on the Go to braise meat. Another popular use has come out of their accounts at places like Rooster's Kitchen on Mass Ave.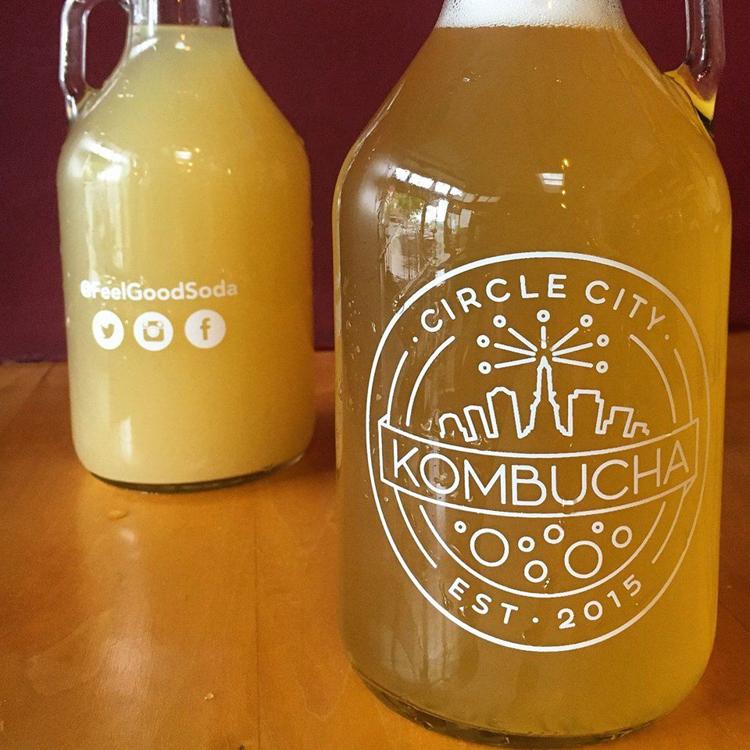 "Rooster's is doing kombucha radlers with grapefruit and an IPA, or a lager or cream ale with pom or cherry. And that was Ross' creation," Ferro says.
Whiteside explains their mindset behind it "People always ask us why we promote kombucha with alcohol since kombucha is supposed to be healthy for your stomach, and healthy overall. The thing is, we're not here to change people's lives. We're here to provide them with better lifestyle choices. So, if you're going to make a mixed drink and put a Coke in it that has 45 carbohydrates, why not put a kombucha in that has some probiotics to help your stomach out, some vitamins and about a fifth of the sugar content, if that?"
By promoting the "mixed drink" application of kombucha, the trio reaches people who maybe never would have picked popular grocery brands like GT's Enlightened or Lion Heart. They hypothesize it makes their product more approachable, and that's important when bringing a relatively new trend into a city that hasn't really seen it before, especially when its made such an impact in other cities like in Denver where I saw a packed kombucha bar in one of the city's most popular areas.
"We're all working together just to educate the public," Whiteside explains.
And they're doing it by being at as many events as possible and also by making sure the places carrying their product understand and appreciate it. Circle City Kombucha has a goal to be present at at least one event a week. They're also currently working on getting growler-fill stations at Rooster's Kitchen and Thirsty Scholar, and (hopefully) a few other places. Adding growler-fills to their repertoire will allow them to get more product out around the city until they are able to open up a tasting room at the production facility, they say.
It's easy to see these guys are happy to bring a product they love into a city they love.
"We are madly in love with this city," Ferro says. "It's Circle City Kombucha for a reason."